The following story is brought to you courtesy of Red State. Click the link to visit their page and see more stories.
A bit of breaking news this evening. President Trump has fired Brad Parscale as his 2020 campaign manager, though he's retaining Parscale in a digital and online role. Bill Stepien will now lead the effort to get Trump re-elected.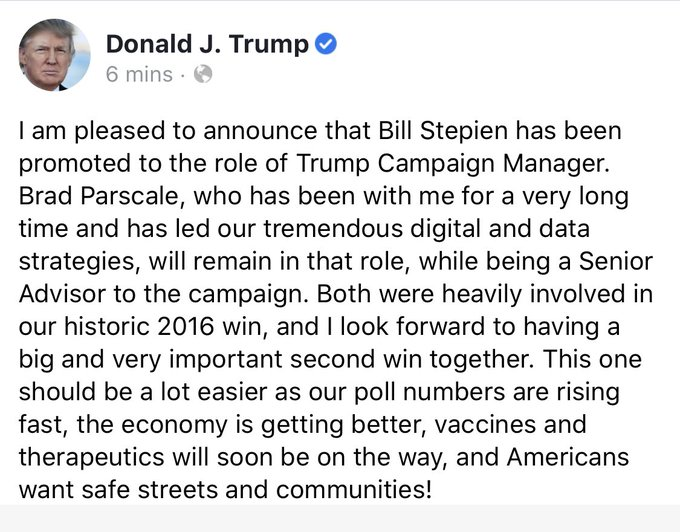 Who suggested this move just two days ago? That would be me in an article titled Trump Should Fire His Campaign Manager Or Be Prepared to Lose.
In 2016, Trump was faltering at about this same time. He cleaned house and brought in Kellyanne Conway and Steve Bannon. They tightened up the ship and focused the message. Most importantly, they won. Perhaps Trump feels a special loyalty to Parscale, but that's not going to be much consolation if Biden goes on to win. The issues with the Trump campaign are real and the swoon we've seen is real. Even their internal polls are showing that now. This isn't personal. It's purely pragmatic at this point.
There has to be a change of direction in the immediate future or Trump should be prepared to lose.
There will be time to really dissect this later. I'll save that for another, more in-depth piece. But for now I'll just say this is the right move and one that had to be made. Trump is currently headed for defeat. He seems to have recognized that and is now making necessary changes. We'll see if the campaign takes a decidedly different direction from here on out.